#1 Kubernetes Backup/DR Platform
Kubernetes Backup & DR with Kasten by Veeam. Kasten K10 Enterprise Platform – Per node license for Kasten Enterprise K10 Data Management Platform
Kasten K10 by Veeam provides operations(DevOps) teams with an easy-to-use, scalable and secure system for backup/restore, disaster recovery and application mobility of Kubernetes applications.
K10's extensive ecosystem supports public/private/hybrid cloud/on-premise Kubernetes distributions (cloud vendor managed or self-managed) and Data services like MySQL, RDS, PostgreSQL, and Storage such as EBS, EFS, and S3.
Kasten K10 integrates with relational and NoSQL databases, and all major Kubernetes distributions, and runs in any cloud to maximise freedom of choice.​
Protects Cloud Native applications and business-critical data by deploying a truly Kubernetes native backup solution. ​
Uses automated policies to manage how backups are securely replicated off-site and meet business and regulatory requirements.​
Moves entire applications between clouds and on-premises for test/dev, load balancing, and upgrades.​
Constructed using Cloud Native architectural principles following a desired state model with declarative control.
Provides simplicity via streamlined operations​.
Comprehensive end-to-end security via enterprise-grade encryption and ransomware protection.
Provides maximum versatility, protecting data no matter its state or location.
Quick to deploy and easy to use via a state-of-the-art management interface or a Cloud Native API. ​
Enables DevOps team agility – reduces time to identify and protect system applications.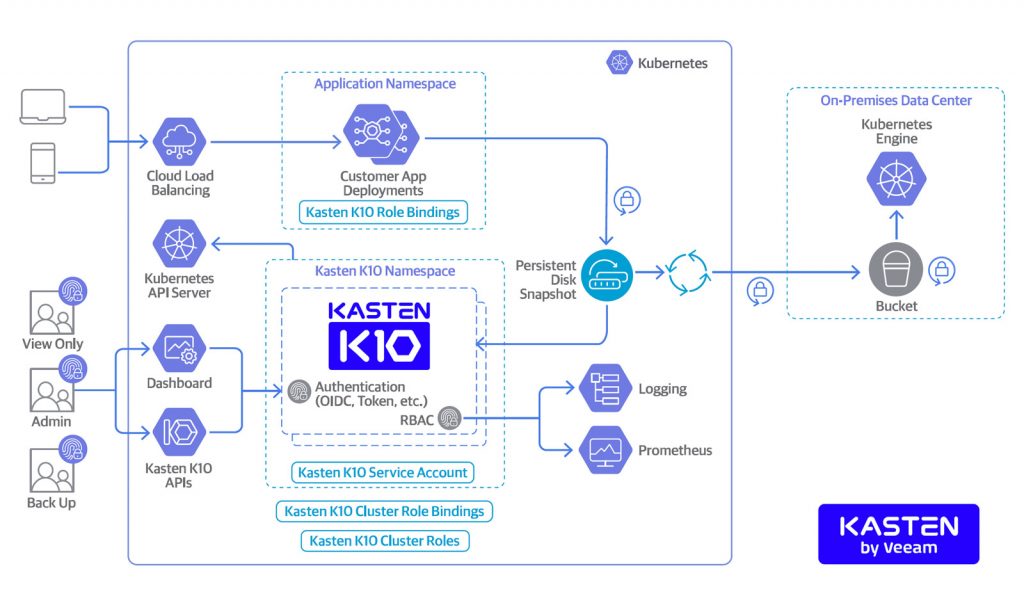 Kasten K10 Data Sheet
Kasten K10 by Veeam - unique values, features & benefits, and use cases.
Download Now!
Simple Deployment and Charges
Kasten K10 is deployed on your or a customer site and configured to use our S3 storage as a backup target.
Our prices start from £180.48 per node.
Individual Approach
Security requirements vary from company to company. We at PeaSoup meet your data protection needs individually fulfiling specific applications and business recovery objectives.
Onboarding & Management
We take an individual yet comprehensive approach when onboarding new clients. Our data protection specialist will be guiding you through all process of setting up, migrating and managing your data.
Customer Support
Our 24/7/365 service desk is included as standard available to you by phone or Zendesk ticketing system. No question is too small.
Engaging with PeaSoup, we aimed to have a replication of all critical services that could be tested and proven in advance without disruption to the live environment and without budgets spiralling out of control.
Pip Hignett
Systems Administrator, Central Scotland Valuation Joint Board
Get started with Kasten K10
Protect Your Business from Disruptions, Ransomware, Human Errors and Natural and Technology Disasters