DISASTER RECOVERY AS A SERVICE
Veeam and PeaSoup provide a secure disaster recovery and repository platform within a single resilient solution.
Disaster Recovery - £0.14 per GB
Veeam Cloud Connect Replication
The cost for our DRaaS is 14p per GB of data stored, based on the size of the original VM.*
Why Veeam for Disaster Recovery?
Disaster Recovery as a Service (DRaaS) powered by Veeam gives you replication and failover abilities necessary to safeguard your business. In case of natural and technological disaster, PeaSoup's cloud platform will act as a host with flexible IT resources such as CPU, RAM and storage for you to restore your apps and operational systems.
Without any disruption to your production workloads, you can perform full or partial (selected VMs only) failover to a remote DR platform. This can be done with just a couple of clicks from any time and anywhere as long as you have access to the internet.
Veeam DR (disaster recovery) provides granular and rapid recovery of individual objects, files and individual application items from a simple and intuitive interface. DRaaS allows you to maintain business productivity with flexible and agile full-VM and item level recoveries with low recovery point objectives (RPO).
With the help from the Veeam management portal and built-in 1-click failover orchestration, you can deliver quick failover testing or simulation. This allows IT admins to eliminate the costs and complexity associated with legacy DR methods.
If you're managing your company data backup entirely to on-premise servers on the same network you're at risk of being hacked and encrypt with a virus. The ransomware will spread to infect your servers and gain access to your primary corporate network. Therefore, the ransomware attackers will have full control of your backup data and systems.
With disaster recovery as a service (DRaaS), however, you'd be backing up to a separate, functionally redundant cloud environment, one that the hackers wouldn't even know existed, let alone be able to infect with their ransomware code. With this method, you're air-gapped from your primary network and your backups ("immutable backups") are resilient against ransomware and other threats. Furthermore, any changes or deletion can't happen without multi-level approvals.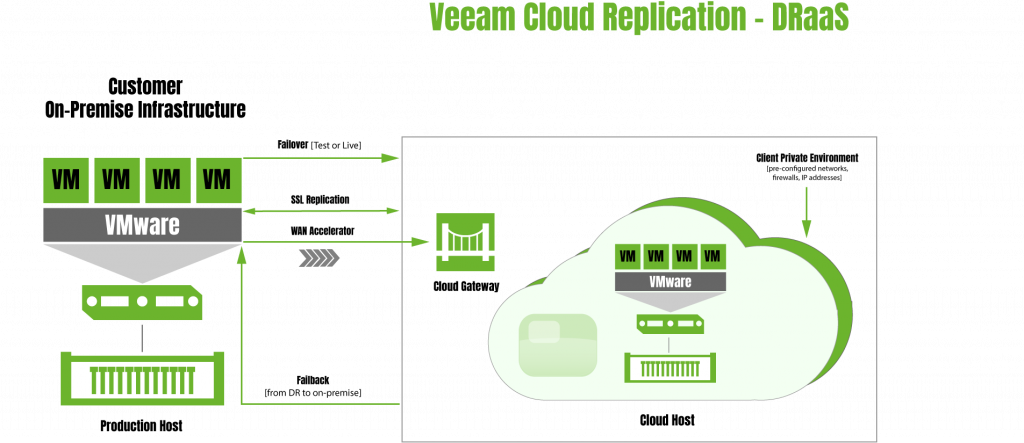 *Please note additional storage will be required based on the retention policies. A virtual data centre (vDC) will be provided to allow for pre-preparation of the DR environment, network configuration, firewall rules, and more.
Hourly invocation charges will be incurred based on DR failover for live testing or actual disaster.
Simple Costs
Simplicity is at the heart of PeaSoup. PeaSoup disaster recovery (DRaaS) provide affordable and efficient, image-based replication. Licensing and pricing are simple and straightforward based on the amount of VMs and data storage.
Individual Approach
Security requirements vary from company to company. We at PeaSoup meet your Disaster Recovery needs individually fulfiling specific applications and business recovery objectives.
100% Environmental
PeaSoup DRaaS platform uses our eco-friendly liquid-cooled data centres. This technology is more resilient and high-performing compared to traditional cloud providers.
Onboarding & Management
We take an individual yet comprehensive approach when onboarding new clients. Our cloud specialist will be guiding you through all process of setting up, migrating and managing your data.
Customer Support
Our 24/7/365 service desk is included as standard available to you by phone or Zendesk ticketing system. No question is too small.
Engaging with PeaSoup, we aimed to have a replication of all critical services that could be tested and proven in advance without disruption to the live environment and without budgets spiralling out of control.
Pip Hignett
Systems Administrator, Central Scotland Valuation Joint Board
Get started with secure Disaster Recovery (DRaaS)
Protect Your Business from Disruptions, Ransomware, Human Errors and Natural and Technology Disasters