Veeam vs Zerto (Software Comparison)

Veeam Backup & Replication is a backup software for virtual environments built on VMware vSphere and Microsoft Hyper-V hypervisors. The application provides backup, restore and replication functionality for virtual machines, physical servers and workstations as well as cloud-based workload.
With a single console, achieve fast, flexible and reliable backup, recovery and replication of all applications and data.
The Veeam Availability Suite has some state-of-the-art features that ensure your workload is being fairly divided across physical and virtual channels. You can recover all your apps and files within 15 minutes of any unwanted accident. It is made possible through the automated recovery process.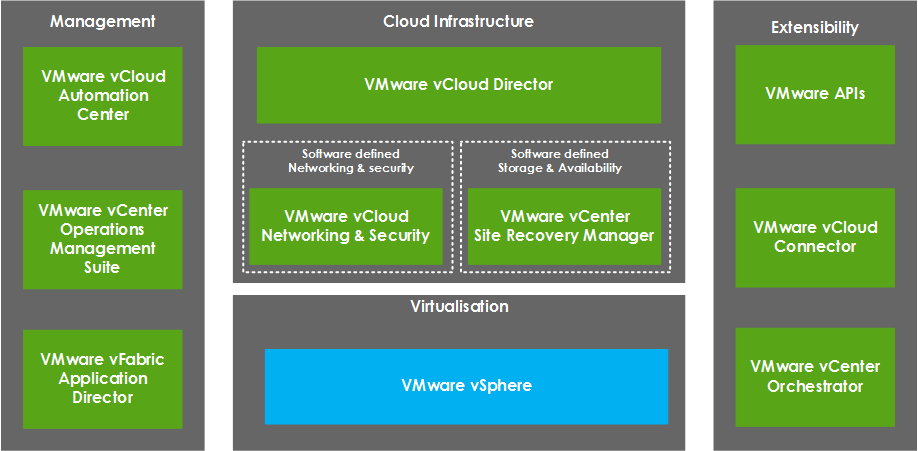 You can link different cloud-based servers together and share workloads across them. It improves efficiency and makes it possible for you to view performance across each server.
Veeam Backup & Replication software is compatible with a variety of backup targets and can be used with VMware vSphere and Microsoft Hyper-V.
Backups are image-based and can be created from snapshots.
In addition to backing up and recovering VMs, Veeam can protect and restore individual files and applications for Office 365. It can also provide transaction-level restores of Oracle and Microsoft SQL databases.
Veeam software helps with high-speed recoveries, data loss avoidance and verified recoveries.
Other features include scale-out backup repositories, instant file-level recovery, remote office/branch office support and SureBackup technology that tests VM backups to ensure data recovery.
Veeam Cloud Connect plugs into the local backup & replication console to provide cloud features including offsite secure backups, replication, prevention of accidental/malicious deletion of local backup data and online threats e.g. ransomware.
The software has fully integrated cloud disaster recovery ability.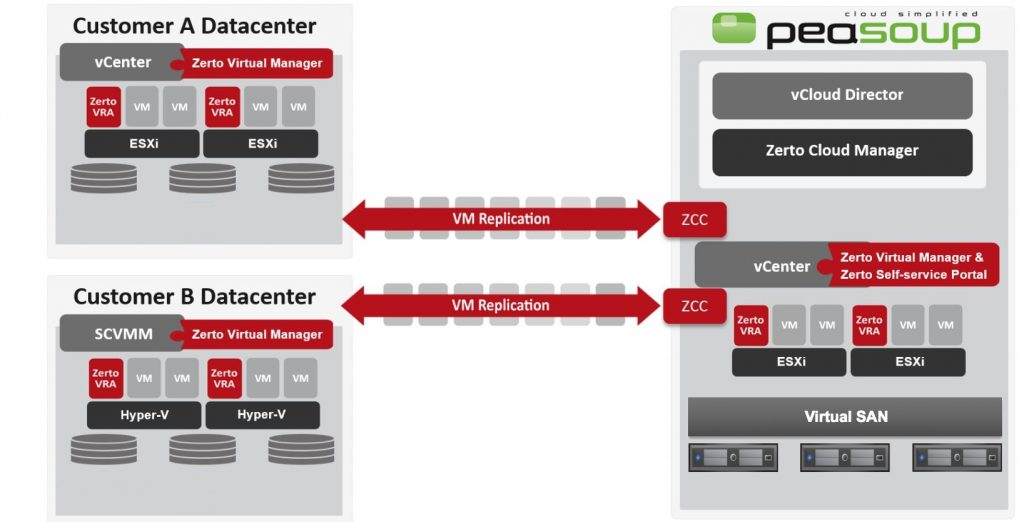 Zerto is a Virtual Machine (VM) replication product that works on a hypervisor level (or virtual machine monitor software, firmware or hardware that creates and runs virtual machines). In contrast to array level replication, it eliminates storage array from the equation and all the complexities which used to come along with it (SRAs, splitting the LUNs for replicated and non-replicated VMs, potential incompatibilities between the orchestrated components, etc).
Zerto consists of two components: ZVM (Zerto Virtual Manger) and VRA (Virtual Replication Appliance).
In a nutshell, Zerto replicates VM disks to any datastore on recovery site where you point it to and then tracks changes in what is called a "journal volume".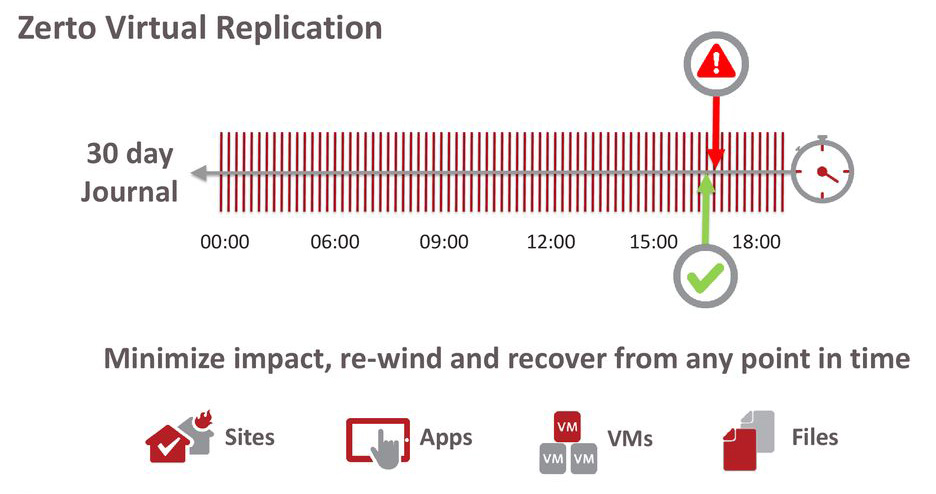 Zerto's IT Resilience 7.0 Platform converges disaster recovery, backup, and workload mobility whether on-premises or to, from and between hybrid and multi-cloud environments. Built on a foundation of continuous data protection (CDP) with built-in orchestration and automation capabilities, the platform provides you with simplicity, enterprise scale, and agile data protection to save time, resources and costs.
Continuous data replication allows organisations to replicate data as changes occur, delivering recovery intervals of mere seconds. Snapshots are scheduled rather than continuous, because of their impact on production, meaning recovery intervals of hours.
A unique Elastic Journal that combines the granular journal technology with long-term repositories, providing a continuous stream of recovery points with intelligent index and search – for recovery across data, files or VMs from any point in time.
Data protection workflows that automate recovery from numerous points in time, across multiple VMs, ensuring application consistency across short and long-term data retention.
Retention policy settings for daily, weekly, monthly and annual cycles to copy the recovery data to cost-efficient LTR (long term retention) repositories.
Robust resource planning and 'what-if' scenario modelling within Zerto Analytics which continuously monitors and analyses compute, storage and network resources across on-premises environments and public, private and hybrid clouds